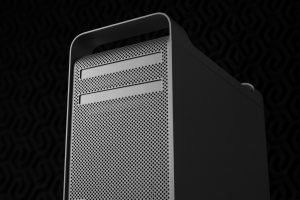 The Mac Pro is a series of workstation and server computers designed, manufactured and sold by Apple Inc. since 2006. The Mac Pro, in most configurations and in terms of speed and performance, is the most powerful computer that Apple offers. It is the high-end model of the three desktop computers in the current Mac lineup, the other two being the iMac and Mac Mini.
Mac Pros are still expensive. Even the older cheesegraters are going for top dollar where I live. But I was lucky to find a mint condition Apple Mac Pro "Eight Core" 2.66 (2009/Nehalem).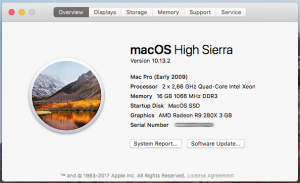 That is the 4.1 version that isn't supported by macOS High Sierra but using an unofficial firmware updater you can upgrade the 4.1 firmware to 5.1. This enables you to install High Sierra including the new Apple File System.
To do this upgrade yourself follow these steps. Download and use at your own risk and follow the on-screen instructions. Run it off your internal system drive with nothing connected to your mac but a mouse, keyboard, monitor and have the original mac video card installed that came with your 2009 mac pro.
This installer came from www.netkas.org I recommend joining and getting it from the original source instead of the link above.
Download original 5.1 Firmware from the Apple site:
https://support.apple.com/kb/DL1321?l…
Now download the 5.1 firmware tool from here:
iMac41-iMac51 Firmware Tool
1. double click original firmware from apple and mount DO NOT CONTINUE TO INSTALL PKG
2. double click 5.1 firmware tool and follow instructions to upgrade to 5.1
3. once RAMDISK is created, follow instructions to shut down mac
4. start mac and hold down the power button until you hear an audible dong and release the power button
5. firmware will now install, wait until mac restarts itself.
6. enjoy 5.1 and download Sierra!
Here is the link to download the firmware updater
https://dl.dropboxusercontent.com/u/7…
You need to do this if you are running El Capitan first before doing the firmware update.
1. Click the  menu.
2. Select Restart…
3. Hold down command-R to boot into the Recovery System.
4. Click the Utilities menu and select Terminal.
5. Type csrutil disable and press return.
6. Close the Terminal app.
7. Click the  menu and select Restart….
If you decide later you want to re-engage SIP (and I earnestly hope that you do), repeat these steps, changing csrutil disable to csrutil enable instead.
Lance McVickar has a very helpful video on YouTube.
I installed a better MSI R9 280x video card and will be upgrading this machine with faster memory and two 6 core Xeon processors.
Have a look at the benchmarks that I did to establish a performance baseline.
Subscribe to my YouTube Channel